This post may contain affiliate links. Please review the
disclaimer page
for more information.
Humans aren't the only ones susceptible to tick attacks. Dogs also face common assaults. If you're looking to keep your loyal furry friend safe, using an all-natural tick repellent is the best and safest route to take.
This is because there are a plethora of tick repellents laden with toxins and chemicals that could do more harm than good.
Naturally, you want what's best for your dog, and using tick repellents formulated with natural or naturally derived substances puts you on the right track.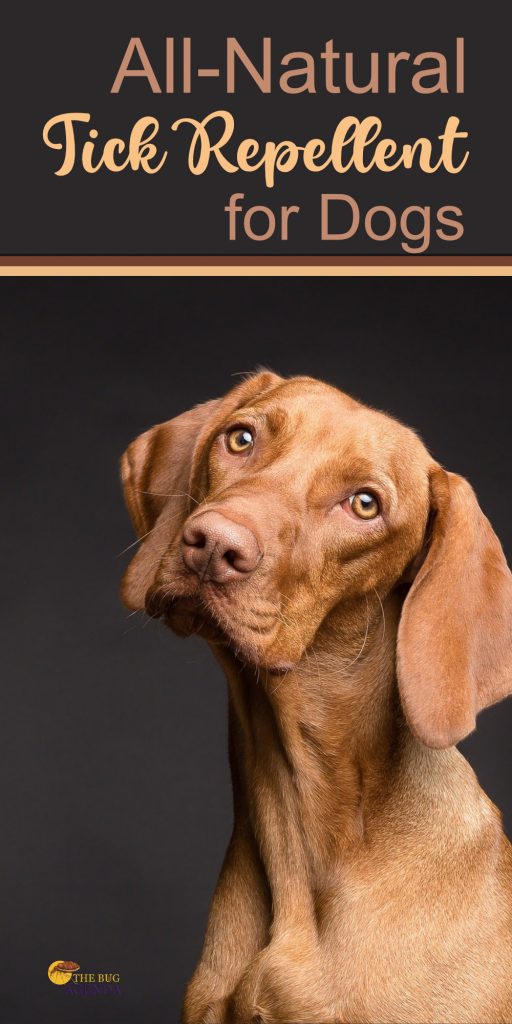 All-Natural Tick Repellent for Dogs
This article focuses on several all-natural tick repellents for dogs you can turn to when you need to protect your pet, especially during tick season.
You will need protection, too. So don't forget to check out what natural options are available to you and practical steps you can take to dodge those tick bites.
With that said, here are 6 all-natural tick repellents for dogs.
Arava Flea & Tick Prevention Collar – for Dogs & Puppies
Brand: Arava
The Arava brand was created out of sheer love and adoration for pets and their caretakers. With over 10 years of veterinary expertise and knowledge of how the skin works and working with Dead Sea minerals, Arava formulated various products to make you and your furry friend more comfortable.
Arava's flea and tick repellent collar for dogs and puppies was created to provide up to 6 months of protection for your dog. Eleven plant-based ingredients were used to bring this stellar device to life.
The ingredients release slowly, which allows you to get more out of it when used. This is possible as a result of the unique, patented Micro-Injection technology used to inject the active ingredients into the collar.
The botanicals used in this all-natural tick repellent collar include herbs and essential oils. It was made using Eastern thyme, red cedar, rosemary, geranium, peppermint, cinnamon, lemongrass, clove, and others.
As essential oils are heavily concentrated, the collar may have a strong scent when fresh out of the box. Simply allow the device to sit for up to 48 hours after unboxing.
Highlights of this all-natural tick repellent for dogs:
Water and rainproof
MSDS tested and FDA certified
Essential oil scented
Eco-friendly
A company that donates part of its proceeds to charity to support animal rights and welfare.
Where to buy: Amazon US
Arava Flea & Tick Control Dog & Puppy Shampoo
Brand: Arava
Along with their tick and flea collar, Arava has a dedicated shampoo for pet parasites. Like the collar, this product was formulated using the same essential oils, so you can be sure that the consistency of the product is maintained.
It also contains Dead Sea minerals, soybean oil, and castor oil. When used on your dog, not only does it provides repellency against ticks, but it's helpful for itching.
If your pup or dog is adventurous and enjoys swimming in lakes or strolling through brushy, forest areas, using Arava flea and tick shampoo works great!
Many pet owners with fur babies that have sensitive skin have commented how their dog benefited from using this shampoo and had no proven adverse reactions from it.
Where to buy: Amazon US
mdxconcepts Organic Flea and Tick Control Spray for Dogs
Brand: Mdxconcepts
Like many other all-natural tick repellents for dogs, mdxconcepts organic flea and tick control spray was made using essential oils namely lemongrass, lavender, cedarwood, rosemary, and others.
The repellent comes equipped in a spray bottle, which facilitates seamless application and use. This means that your dog does not need to ingest or take the substance internally to benefit from it.
Simply spray on the dog's coat and massage in the opposite direction.
Highlights of this all-natural tick repellent for dogs:
Refreshing aroma
Smooth and easy application
Environmentally friendly ingredients
Safe to use around kids
Made using 100% natural ingredients
Where to buy: Amazon US
Vet's Best Flea and Tick Home Spray
Brand: Vet's Best
Vet's Best has a strong history of formulating plant-based products for pets. The brand has been involved in this work for some 30 years.­­ Their plant-based home spray is ideal for flea and tick prevention in dogs.
The spray contains certified natural ingredients such as peppermint and eugenol as active ingredients. Not only can it be applied to your dog's coat, but spraying it on your pet's bedding, pillows, blankets, and such can keep ticks at bay. The best part is it can also be used as a tick killer, according to the company.
When sprayed on your dog's fur, the compound should be massaged into the coat until it gets to the skin. Don't forget to get the product between the toes and armpits!
Vet's Best flea and tick home spray contains non-staining formulas. There's no need to worry about getting your fabrics tarnished. As this product isn't formulated for cats, please do not use it around your feline.
Where to buy: Amazon US
PetHonesty Flea & Tick Defense Supplement
Brand: PetHonesty
PetHonesty came to life when a trio of friends turned their love for dogs into a business to help others spend quality time with their animals.
The objective of PetHonesty's flea and tick defense supplement is simple. It's to boost your dog's natural response to repel ticks. The package contains 90 tender chews to help your dog's body fight ticks.
In essence, these supplements should make your dog less appealing to blood-sucking parasites.
What ingredients are in the supplement? Garlic is the principal ingredient, followed by flaxseed, coconut oil, B vitamins, and brewer's yeast. What is great about this product is that all the ingredients are combined in safe limits for your fur baby.
As garlic can be difficult at times to digest, even for us humans, the supplements are flavored with hickory bacon. This heightens the possibility of your canine eating the snack, although some dogs are fussy about their treats.
Because of the contents of each supplement, not only do ticks likely find your dog less attractive, but it may support your dog's immune health and inadvertently address some gut issues that you won't even notice.
Where to buy: Amazon US
Dog Whisperer Tick + Flea Repellent, All-Natural
Brand: YAYA ORGANICS
This all-natural tick repellent keeps ticks off your canine. The product was independently lab tested to guarantee efficacy. It is a repellent and not a tick killer, so don't expect a tick to meet its demise upon contact.
The spray is herbal scented and made using extracts derived from plants. As a non-greasy formulation, there's no need to worry about getting your fabric tainted, should it mistakenly get there.
Ingredients used to formulate this spray include lemongrass, cedarwood, peppermint, rosemary, geranium, and thyme. Castor and soybean oils are used as diluents to prevent skin irritation.
Where to buy: Amazon US
The Best Natural Tick Repellent for Dogs
From the list above, one of the best natural tick repellents for dogs is the "mdxconcepts Organic Flea and Tick Control Spray for Dogs". All the other tick repellents are effective because they get the job done.
However, mdxconcepts would be my first choice, as the aroma isn't as pungent as the others. Essential oils are concentrated, which means they can be very strong-smelling. When this is the case, your dog might even find it difficult to eat when wearing the aroma. Hence, I would choose the option that smells good but is not too pungent. Either way, it's your responsibility to choose the best option for your mutt.