This post may contain affiliate links. Please review the
disclaimer page
for more information.
Large outdoor citronella candles are ideal to repel mosquitoes and other flying insects. The citronella aroma exerts an uplifting effect on one's mood. It also creates a peaceful aroma and ambiance for outdoor social events.
Are you looking for a large outdoor citronella candle to use at home? Below you'll find a few options to satisfy your needs.
A List of Large Outdoor Citronella Candles
We gathered a list of large outdoor citronella candles that people find useful. Each candle has a different burn time and size. Some are also produced using various waxes.
We talk about what is good about each candle, and what isn't so good.
---
TIKI BiteFighter Galvanized Citronella Wax Candle
Burn Time: up to 35 hours
The Good: This bucket of galvanized citronella wax candle is rust-resistant. The container won't corrode with moisture and other environmental factors. This gives the candle its durability and preserves its aesthetics.
TIKI BiteFighter candle gives you power over some biting insects. Citronella is a natural ingredient that repels mosquitoes. This keeps them and other nuisances out of your hair while you enjoy some patio-outside time.
The Not So Good: The major complaint about this large outdoor citronella candle is its wax size. The wax content is half of the container, although the container is large. While this is the case, the flame of the candle burns high and does what it's expected to.
If you're concerned about wax size, dissatisfaction with this product will set in. But if you want something that repulses biting insects, this candle does the trick.
---
Farm Raised Mintronella Essential Oil Natural Mosquito Repellent
Burn Time: 80 hours
Size: 16 oz
The Good: This candle marries mint and citronella essential oil, enhancing its repellency. It's a lovely fragranced candle made using all-natural ingredients.
The soy wax sits in a plain mason jar that's appealing to the eyes. Mintronella candle contains 10% essential oil concentration. This offers a more potent and stronger aroma to keep mosquitoes and biting midges at bay. The combined effects of lavender, mint, citronella, lemongrass, and citrus essential oils produce a powerful candle. The aroma is amazing!
Mintronella is tough on bugs but is gentle and a friend of the environment. It's 100% natural and vegan.
The Not So Good: Consumers love this candle, but it's not without fault. Some consumers find the shortness of the wick upsetting. This makes it difficult for the candle to stay alight and burning.
---
YINUO LIGHT Soy Wax Citronella Candle
Burn Time: 100 hours
Size: 18.3 oz
The Good: YINUO LIGHT candle wears a stylish, rugged design that's difficult to not take notice of. Although the container is metallic, it gives off a rustic, country look.
The wheelbarrow enclosed wax is beautiful and long-lasting as it's made using soy. Coupled with the 2 wicks of the candle, you get a longer, more fulfilling burn time.
The wheelbarrow, retro look of this candle is also suitable for another purpose. If you're a gardener, as soon as the candle burns out, repurpose the container for planting.
The aromatic fragrance of citronella combined with lemongrass strengthens its effect against mosquitoes. You should see fewer biting flies lingering, especially if several candles burn at a time.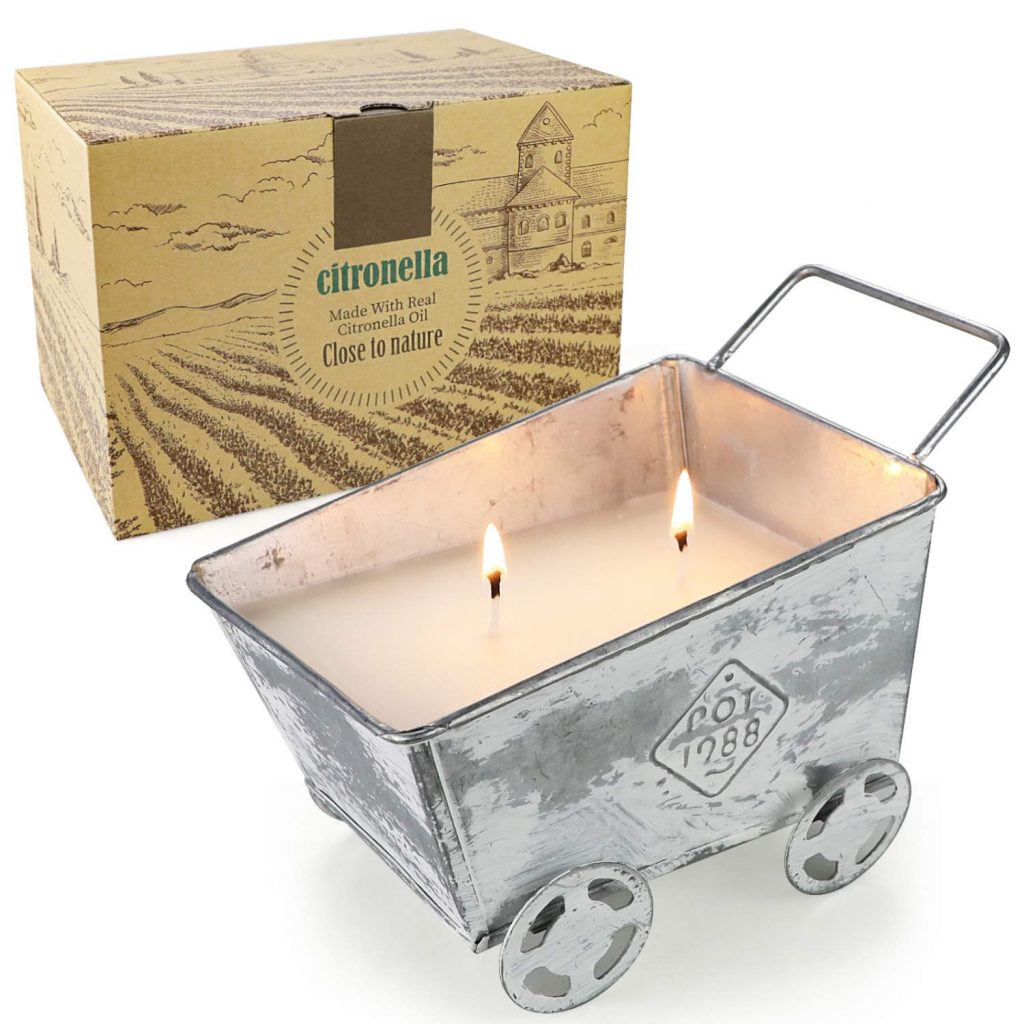 Did you know that a clinical trial proved that Avon Skin So Soft Bug Guard offered protection against no see ums, up to 71%? Read the article here.
The Not So Good: Users show mixed reactions toward this large outdoor citronella candle. Some claim it provides little to no protection against mosquitoes, while others swear by it.
---
T&H Citronella-Scented Candle with Natural Soy Wax
Burn Time: up to 80 hours
Size: 16 oz
The Good: This large outdoor citronella candle was made with love and aromatherapy goodness. Soy wax produced this candle. Unlike typical paraffin waxes, soy wax burns slower and for longer periods. You benefit by using your candle for longer periods and for a longer time.
It is on the pricy side, but that's only because it'll last longer.
There are no artificial or synthetic chemicals attached to this candle. Harmful chemicals aren't released into the atmosphere. And you protect your family from toxins. You also feel a sense of pride as you destress and deodorize the environment.
T&H citronella soy wax candle is a perfect, luxury gift to share with others. It's easy to travel with and relax to. You also have other scents to choose from. These include French lavender to help you destress, eucalyptus to cleanse the air, and lime to uplift the spirit.
Are you interested in learning about the best repellents to use against no see ums? This article talks about 10 of the best options.
Special Tip: Do you want this candle to last twice as long as its burn time? Place in the refrigerator or freezer before burning.
The Not So Good: This citronella candle may not offer protection against insects like mosquitoes. The creator of this product doesn't make that claim. Rather, it was created to add a nice, appealing aroma to the air and reduce levels of stress.
If you're looking for a citronella candle to repel mosquitoes, this won't work. This could be because the percentage of citronella used in the making process isn't substantial.
---
XYUT Outdoor Citronella Candle for Aromatherapy Stress Relief
Burn Time: 80 hours
Size: 14.5 oz
The Good: XYUT citronella candle wax is about a pound in weight. This giant outdoor citronella candle gives sufficient burning time to ensure the product lasts. Although it may repel insects, the candle is best suited for aromatherapy use.
When you wish to wind down at the end of a bustling day, set your candle aflame and curl up to your favorite book, on your patio.
This 3-wick soy candle allows for steady burning to ensure the middle of the wax doesn't burn ahead of other areas. The scent of the candle intensifies the longer it's left to burn.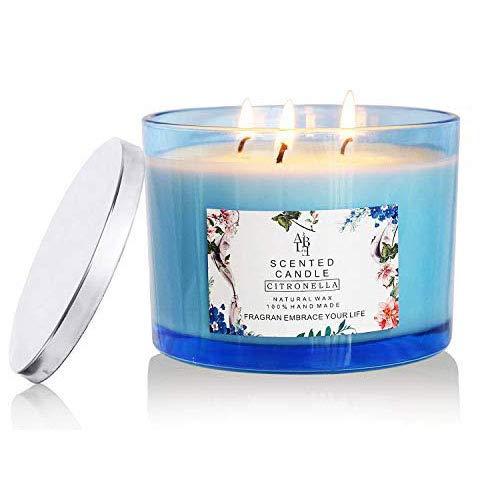 Would you like to learn how to make your own candles? Don't worry about the process! All you need to have is the desire to learn. Click here to learn how.
The Not So Good: Customers complained about the presentation of this citronella candle. The labeling on the product comes crooked. This indicates that not much thought went into the presentation of the product. This is a terrible reflection on the creator.
The candles do repel mosquitoes, but you'd have to be about 2 – 3ft away for it to work for you. To enhance its effect, you may need to burn several at once, especially if you are hosting an outdoor party.
---
Repel Insect Repellent Citronella Candle, Triple Wick, 20-Ounce
Burn Time: 40 hours
Size: 20 oz
The Good: Standing 20-ounces tall, this repellent citronella candle is a huge order. It's suited for campsite use and great for reducing annoyance from mosquitoes.
Do you hate having an excess of wax stick to the sides of the container after burning? This large outdoor citronella candle cuts out this problem. The triple wick candle allows a steady burn and prevents the wax from melting deep into the middle.
This also makes the citronella candle more intense with a stronger repellency effect. A 3-wick candle is more efficient and cuts down on burning time, in comparison to a single-wick candle.
The Not So Good: The major upset of this product from a consumer perspective is the candle's inability to stay lit (or alight). The candle would extinguish after a few minutes of being set aflame. This is a bother for some people, which is understandable. No one wants to focus on relighting a candle when they should be having fun.
---
Cutter Citro Guard Citronella Candle
Burn Time: up to 30 hours
Size: 17 oz
The Good: Cutter is reputable for making products to repel mosquitoes and other flying insects. The candle holder comes in various colors like silver, green, tan, yellow, slate, and American stripes. This makes it easy to integrate into various outdoor themes.   
The Not So Good: This large outdoor citronella candle doesn't completely get rid of mosquitoes but makes a bad infestation better to cope with. The scent in the candle is moderate, but nothing overpowering. Perhaps upping the 3% citronella content (usually industry standards) would prove more effective?
Either way, for best protection, you may need to burn several candles at once.
While candles are beautiful, they can be a fire hazard. Never leave them unattended while burning.
---
SHARE THE LOVE
If you've enjoyed reading this article about large outdoor citronella candles and found it helpful, please share.
You can pin the article on Pinterest or share it on Facebook. Any platform of your choice is fine.
Sharing our content with friends and family helps to keep the lights going so that we can continue to help you deal with simple and serious pest problems at home. As usual, we welcome any questions you may have.
Please make use of the comments section below.